Candle advent wreaths are beautifully romantic. You can upcycle one for a fraction of the price of buying a new one. I have found the bases for all of the ones I've made at charity shops. But if you can't find one then you can always use a large plate or platter and four candle holders as a base. Just secure the candle holders to the base with tic-tac.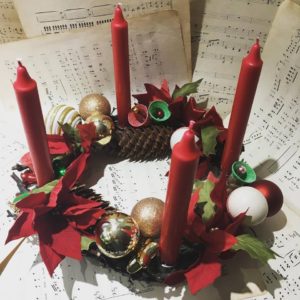 This beautiful upcycled wreath on the left has large decor so it didn't take too long to make. The base is a vintage wire advent wreath frame. The fabric flowers are from an old twinkle light string that didn't work and the rest of the decor, baubles etc. are all bought at charity shops. I made sure to only use plastic and fabric so that it could be easily stored and reused for years to come. I fastened everything to the base with wire which I bought at my local garden market.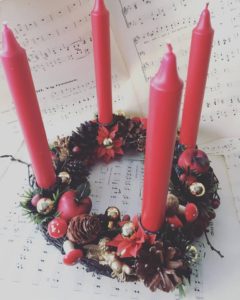 The upcycled wreath to the right is a very classical advent wreath. It is made from natural pine cones, tree branches and vintage christmas decor. Because I chose such small items it took hours and hours to make, but was worth it as it is so beautiful. The base is a vintage advent wreath frame I found at a charity shop. I fastened everything on with a wire.
Before you start it is good to choose colours to use and try to arrange it approximately on a table in the order you would like. I always think that the traditional red, green, white and gold (as I've used in both these wreaths) are beautiful, but you can use any colours you like. It's just good to have an idea of the end result before you go out buying lots of random old christmas decor. But if you do, you can of course always give it back to the charity shop it came from or make extra wreaths and give to friends and family. These advent wreaths are perfect gifts.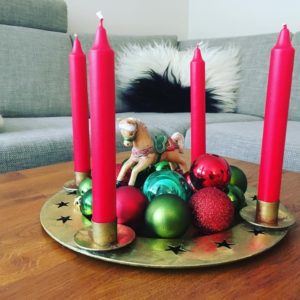 Here is an advent wreath I made from an ikea advent platter I found at a charity shop. These have obviously been quite popular as I found quite a few. You could easily make something similar just from any large plate and small candle holders that you secure around it. When making something like this, make sure you secure everything somehow. I would recommend using tic-tac (or the stronger similar stuff you get at flower markets) but you can also glue everything down with a hot glue gun. If you don't then your pretty ensamble will only last the day. The rocking horse is just an old toy. The toy section at charity shops can be a gold mine when looking for pretty decor. I quite like how simple this is and made a few ones in this style last year.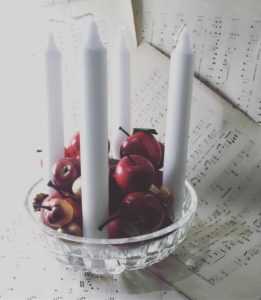 Last, but not least I have this vintage glass bowl candle wreath. This was a rare find, but keep your eyes open because these glass bowl candle wreaths are so pretty and easy to decorate. I filled this one with christmas tree apples I had collected. The apples are so pretty on their own. Any baubles would have looked nice, but apples are my favourite.